Following the tragic events of 9/11, the city commissioned several architects to revitalize the area that had once been home to the Twin Towers. The World Trade Centre Performance Hall is a project that is reflective of the tragic events while conveying emotions of peace and hope. The facade consists of a series of projections that stimulate the viewer while the plaza allows pedestrians to mingle with the site and architecture dynamically.
SITE RESEARCH
Upon doing research and physically visiting the site, it was established this site was unique as all the architecture is large in scale and exceptionally dynamic. Calatrava's Oculus, the freedom tower, the vastness of the 9/11 Memorial Pools- the architecture had to have an interactive quality about it and accessibility is highly significant.
PROGRAM
A series of spaces that are acoustically diversified based on program and function, such as the black box, the main concert hall and the performance hall are accessible to attendees. Furthermore, a series of installations are also placed inside the structure for visual and aural experiences that enhance the users perception of space and form.
The main aspect of the design is the exposed structural members, along with the larger, heavier programs at the top as they are less penetrative to light, while the glass black box and concert hall have glass surroundings so people can view programs occurring inside.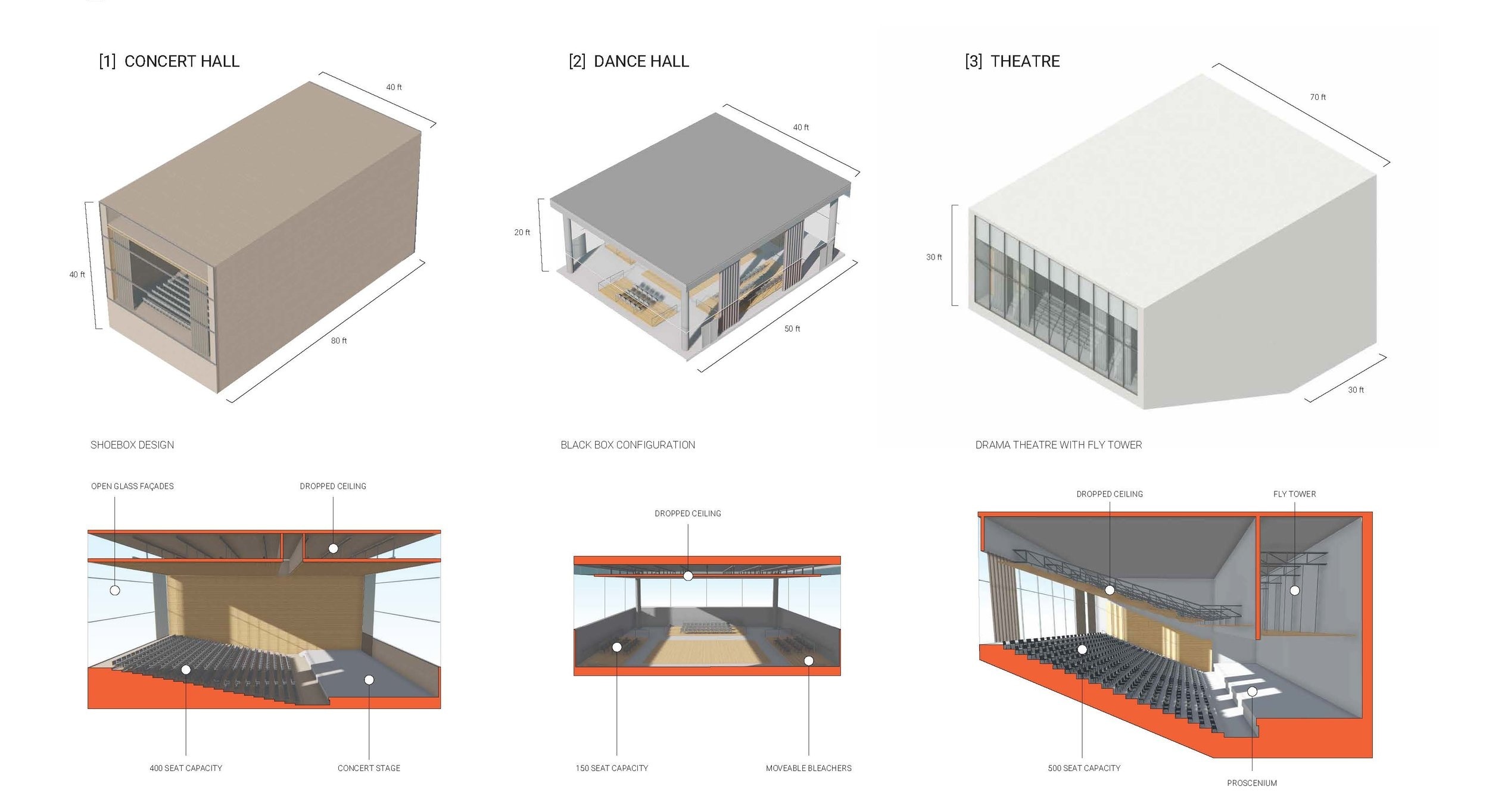 INSTALLATION
The performance hall consists of a series of installations that allow for sensory experiences. The first analysis is based on an installation on the first floor involving wood panels of different reflective materiality that enhance or dampen sounds played in the space. The surrounding area is susceptible to motion as a result of the present acoustical conditions.
INSTALLATION 2
The installation is connected from the underground level, from the performance hall to the plaza. It is a visual experience that enhances the user's perception of depth of space. Thousands of led lights placed in clear tubes interact with the occupant using the escalator as they are moving up. The tubes move in a lateral motion adjusting to the speed of motion of the user as he/she moves up/down the escalator, resulting in a wider or narrow and constricted space. The light installation aims to evoke feelings of hope and regeneration as part of the tragic events that followed 9/11.